While we are travelling to the mountains, we faced a lot of incidents on our way which lead to regret "why wouldn't we check before packing our bags? This travel CHECKLIST will help you to avoid such disasters. Go through my personal checklist which keeps improving as my very next trip. Thanks, me later.
It is the basic need of every human and is also considered a common mistake we all faced. It is to be said that a toothbrush is the most common thing we all forget while packing our bags. To reduce these problems, I am suggesting you consider this checklist before every trip. Your toiletry must include Mouthwash, Toothbrush, Toothpaste, Hairbrush, Sunscreem, Facewash, Sanitizers, Lip bam Wipes etc. You can add items of your choice, but I m suggesting some basics which you are going to need at every point.
Padchaaya Cosmetic Organizer Toiletry Bag with Hook Grooming Travel Kit Makeup Organizer
₹299.00
Travel Toiletry Organizer is the perfect travel companion! multiple pockets can store all your cosmetics well-organized. It can be used a toiletry wash bag, makeup bag, cosmetic Bag, travel kit , shaving kit bag. toiletry kit in a classic compact shape allow you easily to store in a suitcase, cupboard, or backpack.
Extra Batteries, 4 in one charging port and a Powerbank
While we are trekking, we can't expect to get to a charging point at any point. Phone discharge is one of the common issues we all have faced. So, be ready with extra batteries, a fully charged power bank and 4 in one charging port on your next trip. These common items will help you throughout your trip.
Cable Creation USB C Hub Multiport Adapter, 5-in-1 USB C Adapter Aluminum Shell with 4K USB C to HDMI, Ethernet Port, 3 USB 3.0 Ports for MacBook Pro/Air 2020/2019, iPad Pro 2020, Surface Go, Galaxy S22, XPS More Type C Devices with Display Port Alternate Mode Required
₹ 2,943.00 
4K HDMI Port – Ultra HD
5-in-1 USB C Hub – Plug and Play
1Gbps Ethernet Port
5Gbps USB 3.0 Port
Broad Compatibility and Guarantee
Even if you are travelling in May-June, don't expect the same weather as your search engine show. Trust me you will require each of your winter gear which you packed after reading this article. Your winter wears should include A solid winter jacket, Scarfs, extra pair of Sox, and Gloves.
FORCLAZ By Decathlon
₹ 5599
A waterproof, warm and durable jacket. The 3-in-1 adapts according to the weather conditions to protect you from the rain or to warm you up. This 3in1 jacket enables you to keep warm (down to 0C) and dry in all seasons, thanks to a removable fleece lining. 
Long Sleeves
Sporty Jacket
Hooded
Water Resistant
Feeling exhausted, and dizzy in mountains are the most common symptoms we have faced on our journeys. To cure these little issues, we should require a medical kit. For your medical kit, I am suggesting you some basic medicines and items you should keep like: Bandages, Crepe Bandage(Warm Bandages), Paracetamol, Cold n Flu, Aspirin, Scopolamine(commonly prescribed medicine for motion sickness, Steroid Cream, Tweezers and Needles to remove splinters, any medicine for Diarrhoea(As per doctors advice).
First Aid Kit – 200 Piece – for Car, Home, Outdoors, Sports, Camping, Hiking or Office | Red Case Fully Packed with Emergency Supplies
What you'll find inside
1 Carabiner • 1 First aid brochure • 1 Scissors • 1 Tweezers • 2 Vinyl gloves • 1 Emergency whistle • 1 Cotton triangular bandage • 1 Combine dressing • 45 Adhesive Bandages Small • 45 Adhesive Bandages Large • 30 Butterfly closure bandages • 5 Knuckle bandage • 5 Knee/elbow bandage • 2 Gauze pad (4"x4") • 4 Gauze pad (3"x3") • 5 Gauze pad (2"x2") • 1 First aid tape roll • 1 Conforming bandage • 10 Fingertip bandages • 5 Safety pins • 1 Instant cold pack • 2 Eye pad • 20 First Aid Prep Pads • 10 Cotton tipped applicators
Dear friend, villages in mountains don't have facilities like our metropolitan cities. Electricity power cuts are very common in remote villages. So it will be better to keep the torch in your travel essential kit to avoid the hassle. And trust me Cellphone can not be as trustable as these travel gear.
While travelling in the mountains, the weather can be unfair to anyone. So it's better, to safeguard our experience as much as we can. Always keep raincoat with your travel kit.
Hiking Polarized Sunglasses
These polarized Sunglasses will protect you from harmful sun rays while hiking. These sunglasses are also glare free so they will be helpful in both kinds of weather. The benefits of polarized glasses have Anti UV lens which blocks the sun's harmful rays and Protected from glares.
Adult Hiking Sunglasses Cat 3 MH140 Blue
Product consists:
Sun Protection
Coverage
Stability
Lightweight
Compatibility
Robustness
We all get exhausted while travelling, and there might be a situation where clear water isn't available. To avoid this common, mistake, keep a water sipper along with you.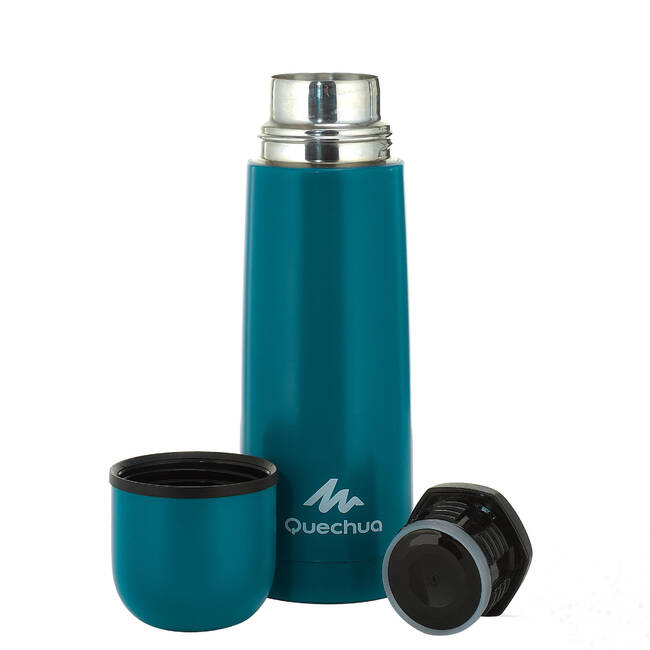 Isothermal Stainless Steel Hiking Bottle 0.4 L – Blue
Product consists:
Isothermal
Robustness
Easy Maintenance
Ease Of Use
Hiking Pole is going to be your best friend in your next travelling and Hiking. It helps you to walk safely and gives you support during hiking. It is durable, which is why you can carry it everywhere.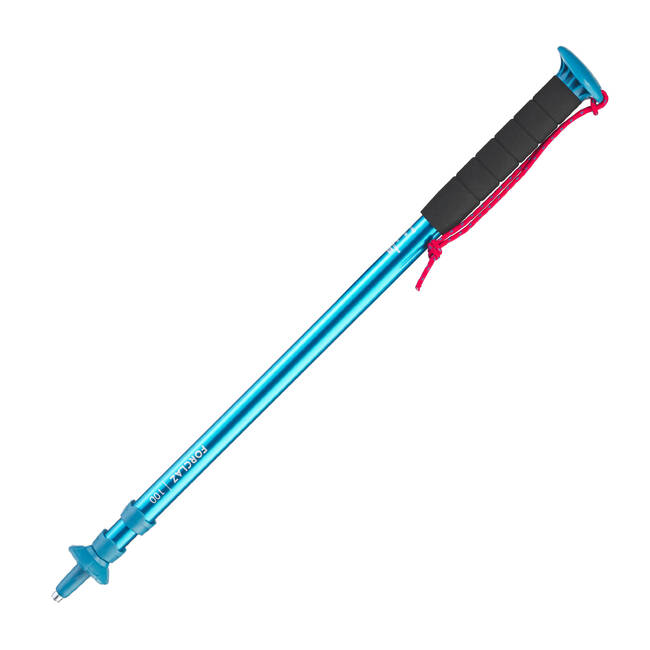 Product consists:
Ergonomic Grip
Adjustable
Compact Design
Durability
Light Weight
Compatibility
Travel Journal Journal & a Pen
Writing your journal is not just what we all love, but it should be mandatory in your next trip. Because in a single trip, there are going to happen wonderful and tons of exciting events going to take place which a picture can't justify but your pen can.