Place to visit in Rajasthan
Rajasthan is nationwide known for its historical forts and huge palaces. Tourism is major source of generating economy. Mostly international tourism is fascinating towards our colorful diverse culture. Even I belong from Rajasthan, so its interestingly makes me pleasure in showcasing our culture to us.
Jaipur is the luxuries capital of Rajasthan which embellished with the most number of forts and the luxuries palace where the dynasty of kings still ruling the palace-"City Palace". The forts of Jaipur include Nahargarh fort, Amber Fort, Nahargarh Fort, Hawa Mahal, Jaigarh fort, Moti Doongri and few more to go.
Amidst of desert, there is city of lakes- Udaipur. A city named after the king Udai Singh. And commonly famous as Lake City because there are total 7 lakes in the city- Udaipur. It's the city of lakes and great palaces. The city also consists one of the grand City Palaces in India.
Jodhpur is city which has the one of the greatest forts in India – Mehrangarh Fort, situated on the top of mountain. A must have experiences to encounter when you are in Jodhpur. Some of the great Folk artists give live performances in special events.
Kota is not just a place. Its city of emotions, dreams and heartbreaks. Its a place which enlightens the greatest successes and greatest downfalls of any students life. Kota gives us top rankers to the Nations and now famous as the name of Suicide City.
The fort of Chittor is one of the largest fort of India thats why its also shining in the list of UNESCO World Heritage. Chittor was prominent capital of Mewar, which gives us diamonds like the great "Maharana Pratap", Rana Kumbha, Raja Ratan Rawal, Udai Singh, Rana Sanga, Gora-Badal.
Ajmer is nearly 60 km from Jaipur is situated near man made Ana Sagar Lake. The domical shrine of the Muslim Sufi saint Garib Nawaz is located at Ajmer Sharif Dargah.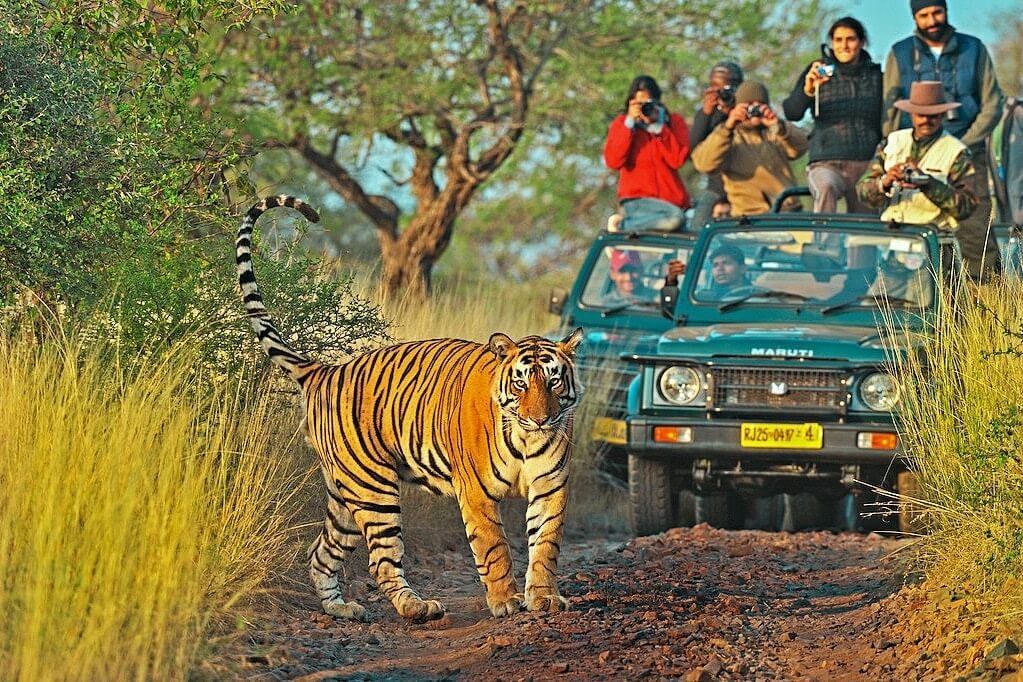 Ranthambore National Park
The Wilflife National park is situated very close to the town of Sawai Madhopur in Rajasthan. Tigers, leopards, and marsh crocodiles reside there; it was formerly used as a hunting ground for the king.
The capital of the former princely state of Rajputana agency, Bundi is located in the Hadoti area of Rajasthan state in northwest India. The old princely state is commemorated by the district name of Bundi.
Bhangarh is renowned for its historical ruins and ghost stories, and is thought to be the nation's most haunted location. It is about halfway between Delhi and Jaipur. The Bhangarh Fort was constructed in Rajasthan's Alwar District during the 17th century.
The Sariska National Park, once regarded as one of the renowned and former hunting grounds of the Maharajas of Alwar, is now a significant wildlife tourist destination that has attracted the interest of many wildlife enthusiasts & photographers.
Pushkar is nearly 8-10 km from Ajmer city. It is just a small village but quite like heaven. Usually it is fill with tourists all day long, but everyone quietly just wander around the Sarovar lake or temples. That is also very renowned place among international tourists as they are always looking for colors diversity and peace. Pushkar is the defination, the travelers are looking for.
One of the famous hill station in Rajasthan. It is situated near Gujrat border. Mount Abu offers tourists completely different scenarios in compare to its usual imaginary dry plains. As it is located on a high rocky plateau in the Aravalli Range and is surrounded by forest.
If you are in Mewar circuit, Kumbhalgarh fort has be in your travel list. Kumbhalgarh is the destination for you if you're travelling to Udaipur to have fun while participating in adventurous activities. a location that is ideal for outdoor pursuits like climbing and trekking in Udaipur.