If your partner is a crazy mountain lover, and you are thinking of raising a question and 'Bars of Proposal' in front of others, let me please introduce you to India's best Exotic places where you can propose your partner to become your permanent betterhalf. I am sure no one can deny proposals at these location due to its magic. Imagine, what else could be better than raising question at mountains to a "Mountain Lover". I find out some mind blowing places to take your partner for a memorable trip, each places have something special which makes it exotic and will make a mark on your romantic trip.
Special about this place: World's Highest Motorable Pass
Umling la pass is officially become World's Highest motorable pass in the world, at a height of 19,300ft overtaken the Khardungla pass at 18,379 ft. The region surrounding the Umling La Pass is completely barren and without any human habitation. You can feel the winds smacking your face from two directions simultaneously as you cross the pass. Its a pilgrim for any mountain lover. Isn't it will be perfect point to begin your love life.
Special about this place: Northernmost villages of India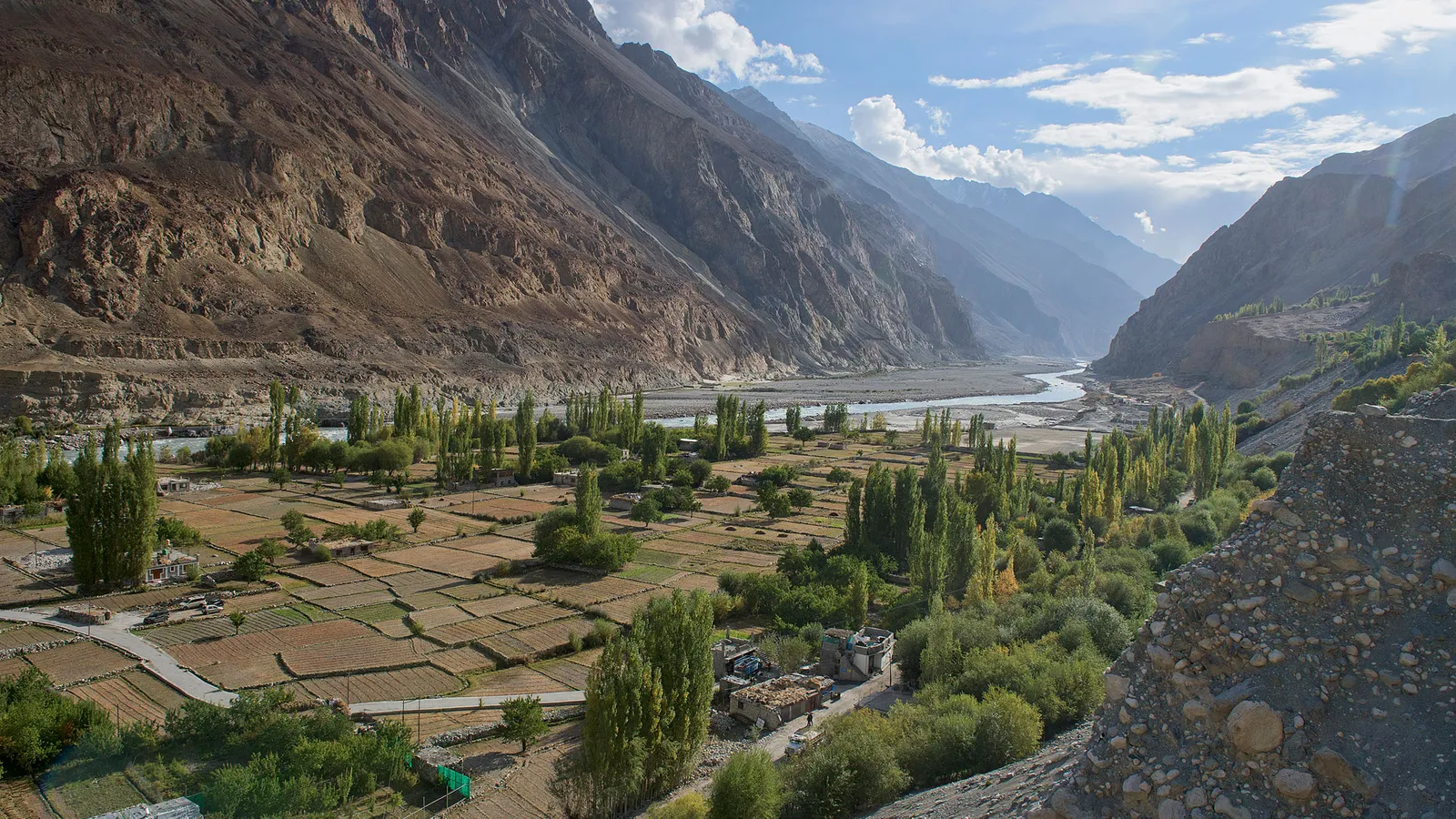 Turtuk is situated in Ladakh, and it is at the end of India from the North region. The village was part of Pakistan before 1971 when Indian Army occupied it. The village is situated near the Shyok river with a view of the Karakoram mountains.
Kanchenjunga National Park
Special about this place: First "Mixed Heritage" site of India and inscribe in UNESCO
This park, which is exquisitely tucked in the heart of the Himalayan Range, boasts abundant biodiversity in addition to over 19 mountain peaks, including the majestic Mt. Kanchenjunga (also known as Khangchendzonga), which stands at 8,586m in height and is the third-highest mountain in the world. In addition to being a national park, Kanchenjunga Biosphere Reserve is a biosphere reserve. The peak Kanchenjunga has also a religious connection and therefore locals have a different aspect about the peak and named Sikkim's National Park after it.
Special about this place: History of having the oldest Buddhist monasteries

Pelling is a small yet beautiful town situated in the foothills of Kanchenjunga. One of the famous monasteries of Buddhist Sanga Choling is sitauted here with wide mountains views. Wall murals, sculptures, and a gold-plated statue of Guru Padsambhava can be found in Pemayangtse Monastery. The 17th-century Rabdentse Palace, which formerly stood overlooking a valley but is now in ruins, nonetheless contains remnants of the king's bedroom and kitchen.
Special about this place: Wettest Planet on earth, also holds a Guiness World record of maximum rainfall in world.
Mawsynram is a town located 69 kilometres from Shillong, the state capital, in the East Khasi Hills region of Meghalaya state in northeastern India,  which is famous for holding the record of World's wettest place. It is the only place in the world which receives maximum rainfall.
Special about this place: Known for its living root bridges, made from rubber trees.
Cherrapunjee often referred to as Sohra, is a high-altitude town in the Meghalaya.  It is well recognised for its rubber tree-made live root bridges. Mawkdok Dympep Valley View Point provides a view of lush gorges to the northeast. The Noh-Kalikai, Dain-Thlen, and Kynrem waterfalls cascade from forested clifftops in the nearby hills. Mawsmai Cave is illuminated south of the city to display its stalagmites.
Special about this place: Heaven on Earth
Gulmarg is the ultimate place for snow lovers and quoted as 'Heaven on Earth'. The word 'Gulmarg' driven from Gul(Flowers) and Marg(Path), together it means, Meadow of Flowers. Throughout its existence, Gulmarg has drawn millions of visitors captivated by the magnificent grandeur of the Himalayan Mountains. The Gulmarg Gondola, the highest cable car in the world, is one of the primary attractions in Gulmarg.
Special about this place: Most mesmerizing 'Shikara Ride'
Jammu and Kashmir's summer capital is Srinagar. The urban lake, also known as "Srinagar's Jewel," is a crucial component of Kashmir's tourism and leisure industries. Meena Bazaar is situated in the middle of Dal Lake where you can find anything. It consists of handcrafted elements that attract tourists.
Special about this place: India's Last Village
Chitkul, is India's Last Village from Himachal border situated in Kinnaur district of the place. This place is famous for its Last Dhaba situated very next to the taxi stand/bus stand, and India's last post office. People often write letters to themselves at their particular address for a souvenir.
Houses in Chitkul with slate or wooden plank roofs, a Buddhist temple, and a tiny tower are of particular significance. Tin-roofs are now being used more often, particularly at the high school and the army/ITBP barracks.
Special about this place: India's best place to experience Paragliding
If you or your partner are fond of Paragliding, or it in your bucket list forever, Bir Billing is welcoming you with open hugs.  Bir is a hotspot for Paragliding. Also, Bir Billing is famous as the Paragliding capital of India. 
Special about this place: Best place for spirituality and rafting
Rishikesh is the ultimate adventure hub of India, also known as the spirituality capital. It is situated near Haridwar. The complete town is built at the bank of Holy Ganga. This place holds a deep roots towards Yoga as well due to historical aspects. The place name driven from Rishi(Monk) and Kesh(Hair).
Special about this place: Listed in UNESCO heritage site, wide variety of Flora and Fauna
Valley of flowers is shining in the UNESCO World Heritage sites, situated near Hemkund Sahib. From Ghangharia village, two treks are open, one way goes up to Hemkund Sahib, and the other way goes down to Valley of Flowers. The Valley of Flowers, as its name suggests, is a place where the beauty of nature is at its peak, providing a spectacular experience.
Chopta Chandrashila Peak, Uttarakhand
Special about this place: World's highest Shiva temple
Chopta is famous for Tungnath Temple, which is situated at 12000 ft above sea level. Tungnath temple is dedicated to Shiva, and it is one of the highest Shiva temples in the world. The Tungnath is included in One out of 5(Panch) Kedars located in the Rudraprayag district.
Special about this place: Best experience of Toy train in mountains
Darjeeling is a town located in the Indian state of West Bengal, situated in the foothills of the Himalayas. It is famous for its tea plantations, which produce some of the world's best teas.
The place is famous for its iconic Toy train. The Darjeeling Toy Train covers a distance of about 88 km and takes about 7 hours to complete the journey from New Jalpaiguri to Darjeeling.
Special about this place: Hidden gem in west Bengal famous for mountains, lakes and tea gardens
Mirik is a popular tourist destination, and visitors can enjoy a range of activities such as boating on the Mirik Lake, hiking, birdwatching, and exploring the nearby tea gardens. The town is also known for its traditional handicrafts and souvenirs, which are sold in the local markets.
Special about this place: Hidden gem and verdant tea gardens such as Poomong and Rungli Rungliot
Special about this place:
Takdah is known for its tea plantations and is home to some of the finest tea gardens in India. The town is a popular destination for tea lovers, who can explore the tea estates, learn about tea processing, and taste some of the world's best teas.
Moreover, Takdah is known for its scenic beauty and is a popular destination for nature lovers and adventure enthusiasts. Visitors can explore the nearby forests, go trekking, camping or bird watching. Takdah is also a great place to relax and unwind, away from the hustle and bustle of the city.
The feature image is the image which gives me an inspiration for this blog. This proposal of @Anunaysood to @Brinda Sharma at Khardungla Pass was a dreamy proposal to any mountain level.